Hello world,
Coming off the back of Deshaun Watson's first three starts for the Texans. A win versus the Bengals, a strong performance against the Patriots and a huge win against the Titans. This question has been kept low but I am still wondering, how did Bill O'Brien decide that Tom Savage should have been the starting quarterback ahead of Watson? With hindsight looks like a bad decision as the Texans were obliterated in their opening game 29-7. In O'Brian's defence, this is a debate that if you were to interchange the names has been plaguing head coaches for years. I am going to examine a few examples that have been successful for the players, coaches and organisations involved, as well more often than not in these situations the examples that didn't go well.
Sometimes, it doesn't take till halftime of the opening game to change your quarterback like O'Brien did. In 1970, Steelers head coach Chuck Noll, a future Hall of Famer, played number one pick and rookie Terry Bradshaw for 8 games. Those other 6 games were played by, yes you guessed correctly. Terry Hanratty… This was a decision that caused opinions to swirl about the reliability of Noll as a coach. In his first game of his career, Bradshaw threw an interception and conceded a safety as they lost 19-7. Bradshaw was so embarrassed to be the starting quarterback when he lost. As told in one of my favourite books,
"Noll yanked him, and backup Hanratty finished up. After the game Bradshaw sat in his truck in the players' parking lot, weeping." – The Last Headbangers by Kevin Cook.
The amazing description of the situation by Cook, whose book beautifully analyses the NFL between 1972 and 1982, shows just how much Bradshaw wanted to succeed not only for himself but also Noll and the team. This is something rarely seen in young quarterbacks today, an example of this being Johnny Manziel who sat out the last game of the 2015 season due to a concussion, however, a video was found of him partying in Las Vegas seemingly fit and well. This lack of commitment, amongst other things is why Manziel is out of the NFL and why Bradshaw is in the Hall of Fame.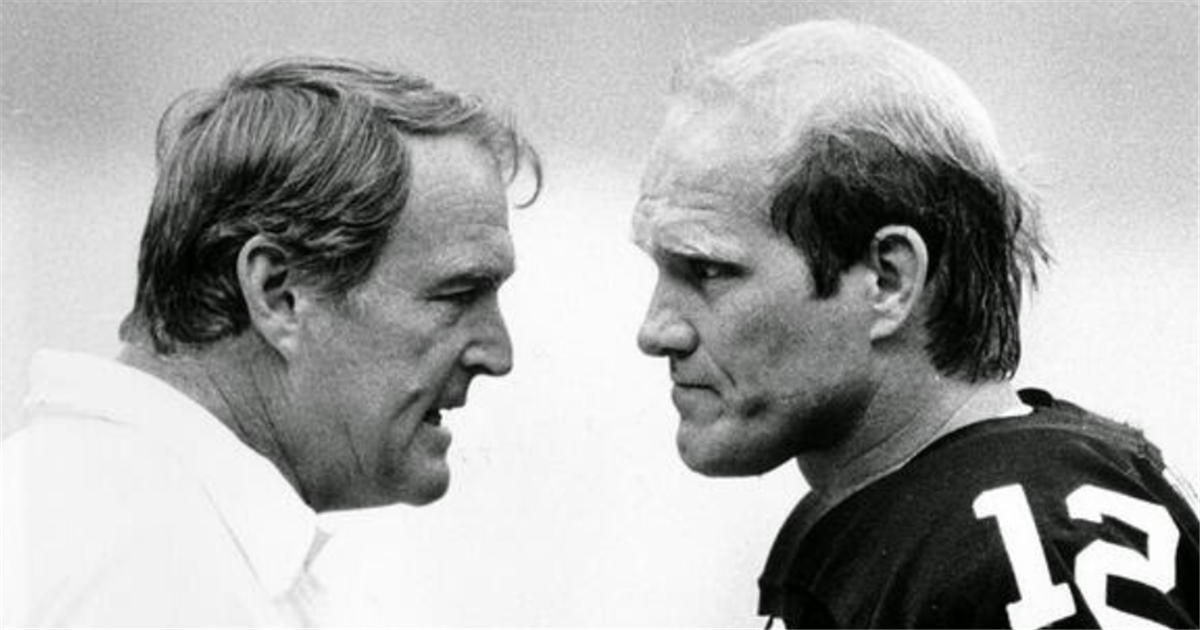 Despite what it looked like after that opening game and that 1970 season, Terry Bradshaw's stats read as follows: 38% completion, 1410 yards, 6 touchdowns and 24 interceptions. Reading those stats is harder than watching a Jeff Fisher press conference. But with hindsight, Noll made the right decision, because the Steelers improved from being the worst team in the league with a 1-13 record the year before to a 5-9 record in 1970. Only 4 years later, the Steelers won their first of 4 Super Bowl titles in the 1970s. These four championships made the pair the most successful coach and quarterback duo till last season when Brady and Belichick won their fifth title. So, in this case, it helped the coach when deciding who to play to already have Hanratty there as the starter. It provided competition for Bradshaw to improve and a player to compare Bradshaw against for Noll.
However, this isn't the case for every coach and rookie quarterback. Instead of having a veteran already there some quarterbacks can be thrown into the fire from the start. Now their failure can, I believe, be attributed to many things such as a lack of coaching, contract holdouts, lack of surrounding talent and lack of effort. The primary instance of a team starting a rookie quarterback and it going all down in flames is with #1 all-time draft bust: Ryan Leaf pictured here being drafted in 1998.
In 1998, he was selected number two overall by the Los Angeles Chargers formerly of San Diego. He was the epitome of a disgrace, he constantly didn't study film, workout or practice with teammates. Reports suggest that he flew to Las Vegas the night he was drafted, partied all night and yawned all through the introductory press conference the next day. Leaf signed the largest rookie contract ever at the time. A 4 year $31.25 million with a guaranteed $11.25 million signing bonus. His stats for his rookie season were: 10 games played, 1,289 yards, 45.3% completion passes, 2 touchdowns, a staggering 15 interceptions and an anaemic QBR of 39. His go-to move was to blame his teammates for his poor play. As you can guess this did not endear him very well to his teammates or fans. This lack of friendship and vulgarity wasn't new to Leaf; in an interview he did with the San Diego Tribune he said "There was a joke going around campus when I was at Washington State.
It went,"What's the difference between God and Ryan Leaf?" The punchline was, "God doesn't think he's Ryan Leaf."
Add this to his incomprehensible amount of arrogance, a lack of commitment, a litany of injuries, fickle temper and overall dismal play. All of this has made him the poster child of NFL bust and in my eyes the owner of the worst rookie season by a quarterback ever.
Having watched Watson for his last two games, he has made incredible strides as a quarterback. A normal rookie would be hidden behind a running game, using play-action passes to find open receivers to get him settled in the game. But Watson has been able to find and sense pressure in the pocket, he's moving defences with his eyes and is making great intermediate throws. Not to make a direct comparison, but both Watson and O'Brien can take advice from Hall of Famer and twice Super Bowl champion John Elway who said about his rookie season "I needed that year it made me a better player rather than sitting it out". Watson has a strong defence and cast of offensive weapons surrounding him to make his transition into an NFL starter an easier one than most. His swift rise as a quarterback makes this conundrum much easier for O'Brien to stomach especially as he realised his mistake only 30 minutes into the season. As long as Watson plays well, then all of the noise surrounding O'Brien and his decision to start Savage will disappear into the ether. If the Texans fall away then expect it to all explode again but don't expect this to happen anytime soon. I think Watson is here to stay.